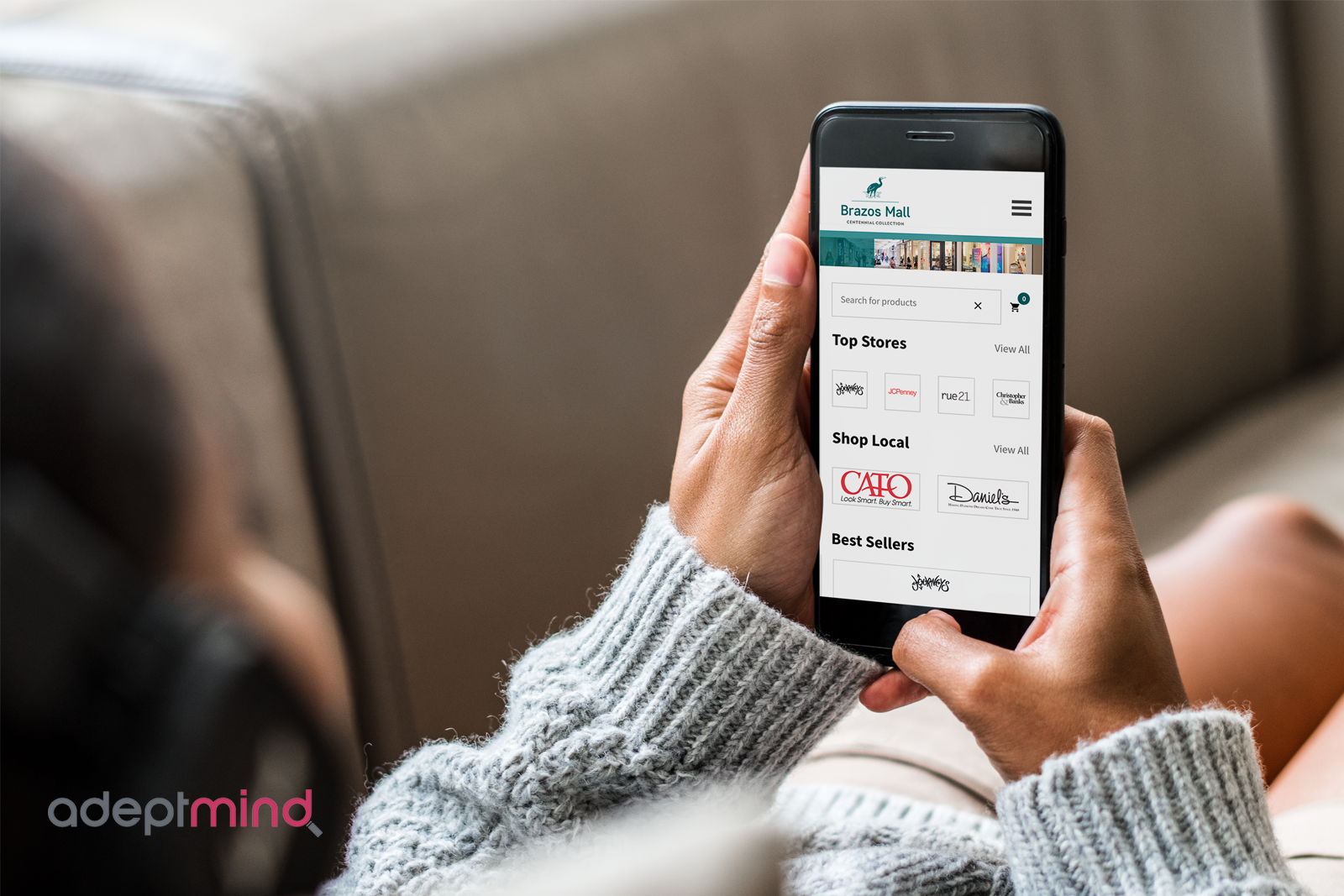 Real Estate Investment Firm Perfects Shop Now! Omni-Channel Shopping Experience with Online Access to Complete Local Mall Inventories, Same-Day Delivery of Purchases
Centennial, a real estate investment firm with a national portfolio of shopping, dining, entertainment and mixed-use destinations (www.CentennialREC.com), announced today that, in March, it will launch the next phase of its innovative and first-in-the-U.S.
"Shop Now!" omni-channel shopping platform, originally introduced in September of last year, with the first phase rolled outto all Centennial properties nationwide in time for the 2020 holiday season. Developed for Centennial by Adeptmind, a leading technology company specializing in artificial intelligence and e-commerce, the platform's newest iteration will offer a host of new benefits to consumers, including a streamlined single-cart checkout process, same-day delivery, and near 100% retailer participation at each Centennial shopping center.
For downloadable photos of the Shop Now! platform, click here: http://ow.ly/4q3d30rdvaq.
"Shop Now! is a game changer in the retail industry. It's a tool that merges the brick-and-mortar and online shopping experience in ways consumers never imaginedwere possible before.

As the next phase of the Shop Now! platform rolls out in Centennial malls across the nation, shoppers will be able to search the in-stock, local inventory of all of their favorite stores, purchasing through a single consolidated online shopping cart, and picking up their purchases in person or opting for same-day home delivery, providing customers with the ultimate in shopping convenience andaccessibility."
- Whitney Livingston, Centennial's COO
The next phase of Shop Now! will be launched first at just one Centennial shopping center beginning in March. Centennial expects to have the new phase of the platform rolled out to all of its shopping centers nationwide before the end of the year.
"The newest phase of Shop Now! will deliver even more conveniences that change the way Americans shop at the mall," says Jesse Michael, Managing Director, Adeptmind. "Together with Centennial, we are especially proud to announce that, as the next phase of the Shop Now! platform is introduced, we will have achieved 100% participation from all retailers in each Centennial shopping center, giving customers online access to all of the products carried by each local retailer. Now, shoppers can truly have an omni- channel shopping experience at the local level, shopping as easily online as they do in-person in their local mall."
How it Works
Streamlined Checkout: In the first phase of the Shop Now! program, shoppers completed their purchases via individual retailer transactions at checkout. The next phase of the Shop Now! platform will include a streamlined single-cart checkout process, a change which greatly simplifies the platform's use.
Same Day Delivery: In the initial phase of the platform, shoppers could use the tool to pre-plan an in-person visit or purchase online, picking up their purchases in store, curbside (where available), or choosing to have their purchases shipped to their homes. In the new phase, shipping options will be replaced with curbside pick-up and same-day delivery for all stores, a move which makes the Shop Now! process more convenient than any other online experience.
Enhanced Retailer Participation: When Shop Now! was initially rolled out nationwide just before theholiday shopping season began, Centennial malls had greater than 70% retailer participation. By the time the new phase rolls out, each center will have 100% retailer participation, giving consumers digital access to explore each retailer's products and purchase from select retailers' in-stock local inventory.
About Adeptmind
Adeptmind was founded in 2017 by two former employees of the Microsoft-exited tech startup Maluuba. As the leading AI based, e-commerce product discovery company, Adeptmind uses state-of-the-art active and deep learning techniques to enhance the customer purchasing journey.
With offices in Toronto, San Francisco, Paris, and Tel Aviv, Adeptmind supports 400+ retailers, shopping centres, and SMB's with innovative technology in and around the world. To learn more about Adeptmind, please follow Adeptmind on LinkedIn and @adeptmindai on Instagram.
About Centennial
Centennial is a national owner of major shopping, dining, entertainment and mixed-use destinations. Rooted in retail since 1997, the company is focused on shaping the evolution of American retail by creating a superior multi-faceted shopping experience. Centennial properties serve not only as a place of commerce, but a place of community. For more information, visit CentennialREC.com.
Media Contact
Deborah Blackford, Blackford & Associates
blkfrd@earthlink.net
714.280.8765
Karen Franse, Blackford & Associates
karenfranse@gmail.com
386.649.1887
Carmen Herlihy, Blackford & Associates
cherlihypr@gmail.com
646.770.2623
Anne Morello, Adeptmind
anne@northpr.ca
647.224.2806