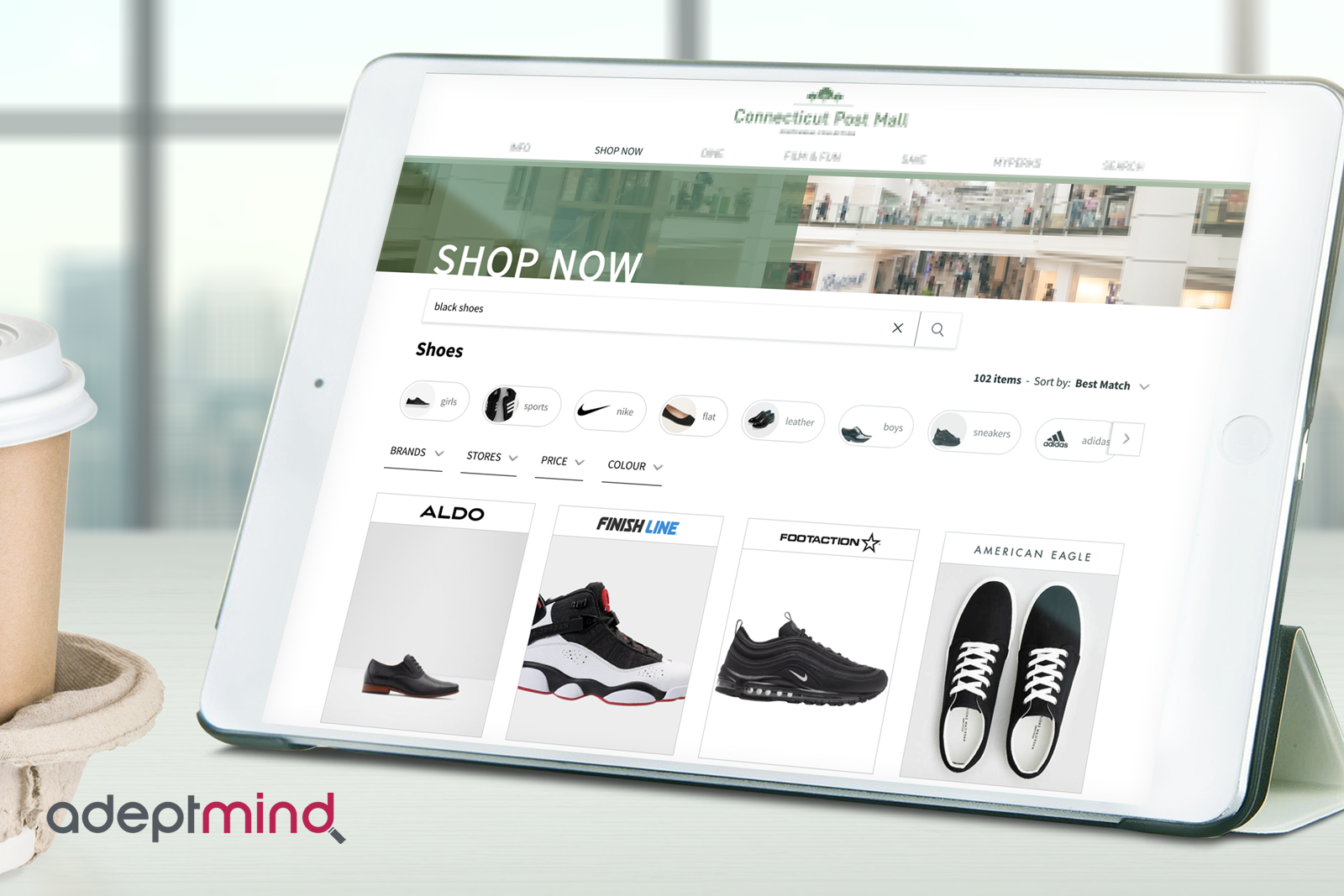 Real Estate Investment Firm to Deploy First-to-Market E-Commerce Platform from Adeptmind
Melding In-Person and Online Shopping Experiences in Seven Markets
Centennial, a real estate investment firm with a national portfolio of shopping, dining, entertainment and mixed-use destinations, announced today it has selected Adeptmind,a leading technology company specializing in artificial intelligence and e-commerce applications, to build a unique omni-channel shopping platform for each of Centennial's shopping centers nationwide.
The new "Shop Now!" platform, a first in the U.S. market, will give customers the option of searching the entire inventory of stores in their local Centennial mall via Centennial's existing property websites. Shoppers canthen decide if they prefer to use the tool to purchase online, request curbside delivery, or simply pre-plan their in-person visit.
"Centennial has earned a reputation as a thought leader in our industry, and our relationship with Adeptmind is yet another example of our innovative nature"
- Steven Levin, CEO at Centennial
"COVID-19 changed the way the world shops, but it really only accelerated the kinds of changes that have been needed for some time. Retail isn't about brick-and-mortar vs. online shopping; it is about the seamless convergence of these two channels in a way that makes sense for the consumer. At Centennial,that's what our new Shop Now! program – and our partnership with Adeptmind – will accomplish", Levin adds.
Centennial's new e-commerce capabilities are an extension of the Retail to Go program the developer started during COVID-19 closures earlier this year. The overwhelmingly positive response to the program's simple curbside delivery offering told Centennial management all it needed to know: To thrive, shopping centers must adapt and meet customers where they want to be met.
Together, the creative minds at Centennial and Adeptmind developed a new kind of experience, one where e-commerce complements local shopping and provides customers with an array of options they didn't have before.
"At Adeptmind, our objective is to create a new dimension for today's traditional brick-and-mortar shopping centers, adding an expansive digital marketplace that brings all of the center's products, restaurant offerings and services together through a single online interface," says Jesse Michael, Managing Director, Adeptmind.
"The Adeptmind platform will enable Centennial to provide a digital marketplace that is specific to each of its individual shopping centers, and one that is complementary to them rather than competitive. The new platform, being introduced for the first time in the United States by Centennial, will be a retail game-changer for brick-and-mortar shopping centers and provide the shoppingoptions today's local shoppers demand."
Centennial's new Shop Now! e-commerce platform will be rolled out in two phases:
Phase 1
In the first phase, expected to launch in October, well before the holiday shopping season isunderway, shoppers will be able to visit any of Centennial's shopping center websites and search for any product they are looking for – "red shoes" for example – and the site will display all red shoes available from that center's directory of retailers. To refine their search, they will be offered filters and guided discovery tools as well as information on in-store availability from select retailers.
Once shoppers make their selections, they will find them in their shopping cart; in the first phase of Centennial's new Shop Now!program, all product selections will be placed in a single cart, then products purchased from separate retailers in the mall will be completed through individual transactions at checkout. Based on each individual retailer's service options, customers will also be given the option of shipping their purchases directly to their home, requesting curbside delivery, or visiting the mall in person to pick them up.
Additionally, in-person mall visitors can simply use the site as an incredible time-saving tool to help them locate what they're looking for while shopping at the center, completing their physical purchasesin the traditional way. Services available at each local shopping center, such as hair or nail appointments, can be booked online, and restaurant orders can be placed through the website as well.
"Through this program, Centennial is launching an e-commerce marketplace designed to improve the overall shopping experience, regardless of the shopper's preference for where to buy and how to receive their goods," says Whitney Livingston, Centennial COO. "The seamless nature of the platformwill define the evolution of the shopping center as we know it by dramatically simplifying the way people shop while providing them with a fully integrated, yet still local, experience."
Phase 2
In the project's second phase, expected to be available in 2021, the checkout process will become more streamlined. When this phase is unveiled, orders will be consolidated, and guests who make purchases from several mall retailers will have just one transaction to complete at checkout. Additionally, in phase 2, there will be a physical location at the mall where shoppers will have more personalized options for pick-ups and returns from a centralized Shop Now! hub.
About Adeptmind
Adeptmind was founded in 2017 by two former employees of the Microsoft-exited tech startup Maluuba. As the leading AI based, e-commerce product discovery company, Adeptmind uses state-of-the-art active and deep learning techniques to enhance the customer purchasing journey.
With offices in Toronto, San Francisco, Paris, and Tel Aviv, Adeptmind supports 400+ retailers, shopping centres, and SMB's with innovative technology in and around the world. To learn more about Adeptmind, please follow Adeptmind on LinkedIn and @adeptmindai on Instagram.
About Centennial
Centennial is a national owner of major shopping, dining, entertainment and mixed-use destinations. Rooted in retail since 1997, the company is focused on shaping the evolution of American retail by creating a superior multi-faceted shopping experience. Centennial properties serve not only as a place of commerce, but a place of community. For more information, visit CentennialREC.com.
Media Contact
Deborah Blackford, Blackford & Associates
blkfrd@earthlink.net
714.280.8765
Karen Franse, Blackford & Associates
karenfranse@gmail.com
386.649.1887
Carmen Herlihy, Blackford & Associates
cherlihypr@gmail.com
646.770.2623
Anne Morello, Adeptmind
anne@northpr.ca
647.224.2806